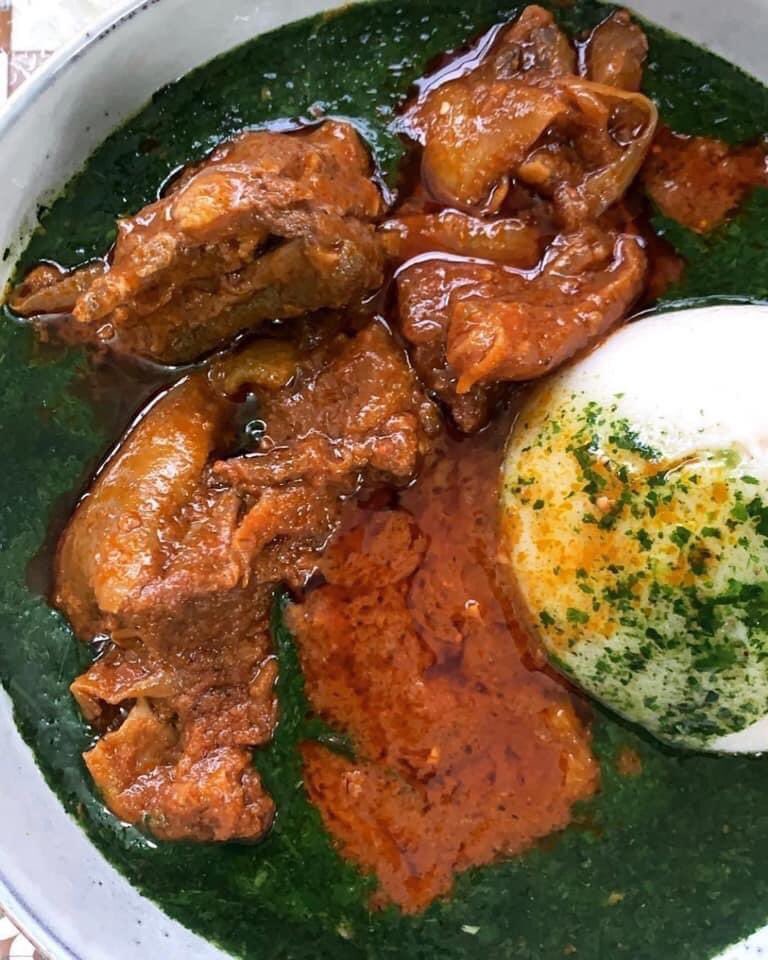 Difficulty:Difficult
Prep Time:30 Mins
Cook Time:2 Hr
Total Time:2 Hr 30 Mins
Ingredients
1 bunch Ayoyo leaves
Saltpeter
1 tsp powdered fish
1 tsp dawadawa
1 tsp powdered pepper
1 medium onion
1 tsp powdered okro
1 tsp all-purpose spices
1 smoked salmon
1 tsp fish seasoning
300 g meat (beef)
3 cups corn flour
2 large tomatoes
1 cup Cassava flour
Herrings
Instructions
Step 1 At first, you need to wash ayoyo leaves and then chop it into smaller sizes. Add water to a saucepan and let it boil, then add chopped onion, powdered fish, powdered okro, and dawadawa, then add chopped ayoyo leaves and saltpeter and let it simmer for 2 minutes. Add salt and seasoning and wait for another 2 minutes. Now, ayoyo soup is ready.
Step 2 Now it is time to prepare the meat. Cut the meat and wash it, then put it in a saucepan over medium heat. You can chop or blend onion and garlic then add to the meat. Add seasoning and let it cook. Add salmon and herrings, then add spices and let it cook for 10 minutes. In the end, add salt to taste.
Step 3 For tuo zaafi we should fetch corn flour and add cold water to it and mix very well. Boil some water and add the corn flour mixture and cook it for 10 minutes. In a separate boil, fetch some of the corn flour mixtures and set aside. Mix cassava dough and a little dry corn dough and add the mixture to the boiling corn dough and stir well. Then you should add corn dough mixture you set aside to the tuo zaafi and stir. Stir for 15 minutes. Then you can serve your tuo zaafi with soup and stew.